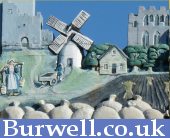 Events
•
Events Calendar
•
Burwell Museum
•
What's On East Cambs.
•
Cambridge Events
Area Photos
•
Weather
•
Burwell Business listing
Village News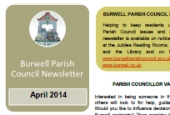 Parish Council News Letter April 2014
---
•
Carnival Slide Show
•
Burwell Windmill Project
•
Fire Station Merger Video
•
Newmarket Journal
•
Cambs. Evening News
Featured Business
Action

Help Danny Hear!
•
Scouts Hut Fund Raising
•
Help Save Magpas!
Welcome to Burwell Village, Cambridge England
This site is intended to serve the local community and anyone interested in Burwell and the surrounding area. All contributions, ideas (and corrections!) gratefully received.
If there is anything you would like to see added to this site then please
contact www.burwell.co.uk
Welcome, you are visitor number 1418124 to Burwell.co.uk (Est. August 1999).
Today is
Please follow
this link
to upload your photo to show here. Carnival photos also appreciated!
Stevens' Mill, Burwell. (With recently restored sails).
See the sails moving in the video on the Windmill Project Blog

Select
this link
to see the above panorama of Burwell in high resolution