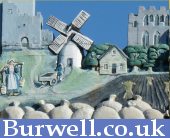 Events
•
Events Calendar
•
Burwell Museum
•
What's On East Cambs.
•
Cambridge Events
Action
•
Nepal Earthquake Appeal
•
Invest in the Reach Community Solar Farm
•
Scouts Hut Fund Raising
•
Help Save Magpas!
Area Photos
•
Weather
•
Burwell Business listing
Village News

Parish Council News Letter May 2015
---
•
General Election Results
•
Burwell Windmill Project
•
Newmarket Journal
•
Cambs. Evening News
Featured Business
Historical lnformation Plaques for Burwell (Note: This page is not up to date)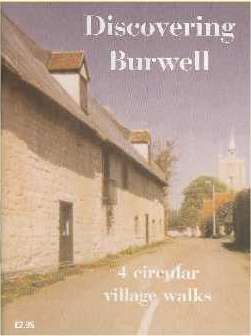 Several years ago, Burwell History Society came up with the idea of marking the important historical sites in our village that are in danger of being lost or forgotten.
At the same time the society was updating and repackaging a book of village walks.
They took the idea of the plaques to the Parish Council at about the same time as an application for funding for the walks books. The Parish Council agreed to fund the books on the understanding that proceeds from sales would finance the plaques and other small conservation projects in Burwell
So far, we have sited 5 plaques: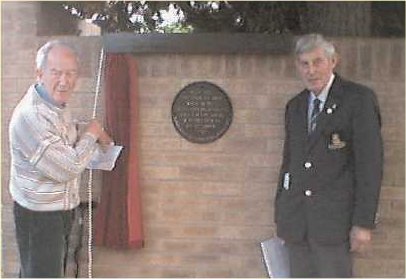 The first plaque was the one we considered the most important. lt marks the spot of the
Barn Fire of 1727
which resulted in the deaths of 80 people, mostly children.
The plaque was unveiled by Mike Pike who first began writing the walks books that funded the project. People of Burwell showed their respect for the victims by parading down to the churchyard where a special service was held by the mass burial site.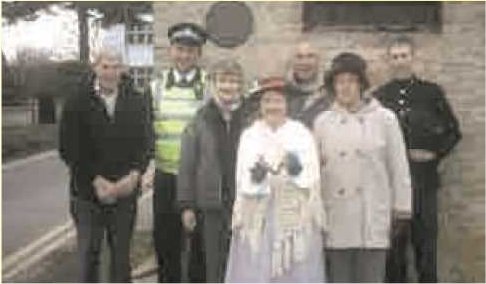 Plaque number two was sited on the Old Lock-up, where village offenders were held ovemight until they could be taken before the magistrates. This is now a builder's store and it's history was in danger of being forgotten. We marked the occasion by staging a Victorian- style arrest at the Burwell at Large Exhibition in 2005 and inviting our former village constable to unveil the plaque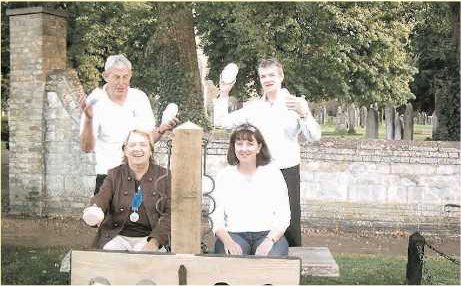 Stocks Green outside the gates of St Mary's Church was the third site. The village stocks stood here from the 1400s until the mid 1800s. County Councillor Hazel Williams unveiled the plaque and our local parish and district councillors came in for the wet sponge treatment. The replica stocks can be seen at Burwell Museum.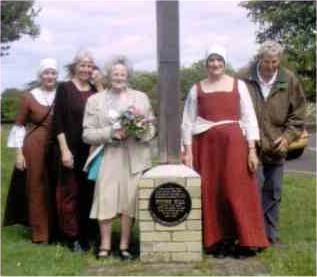 In May 2007 the plaque at Pound Hill, was unveiled by Connie Baker, granddaughter of one of Burwell's best known residents, Granny 'Doe' who ran a sweet shop on Pound Hill and was one of the last organisers of the Village May Feast - the yearly festival that had been held on Pound Hill since the Middle Ages. We re-created some of the traditional atmosphere of a village festival, with stalls, a maypole, and, of course the animals in the pound.

On a sunny afternoon in September 2007 villagers walked across the fields to Sheepwash Corner, where our local shepherd, Andrew Hill unveiled the 5th plaque, this time on the site of the old sheepwash pool where, until 1905, sheep from the village were washed before sheering or going to market.
For more information contact Pat Kilbey. Tel: 01638 743283 Email: pat.kilbey@ntlworld.com